Last night the Port Colborne Optimist Club celebrated the youth of our community at our annual Youth Appreciation Award event. Held in the parking area outside our club, we had over 20 guests and a dozen Club members in attendance to help out at our barbecue.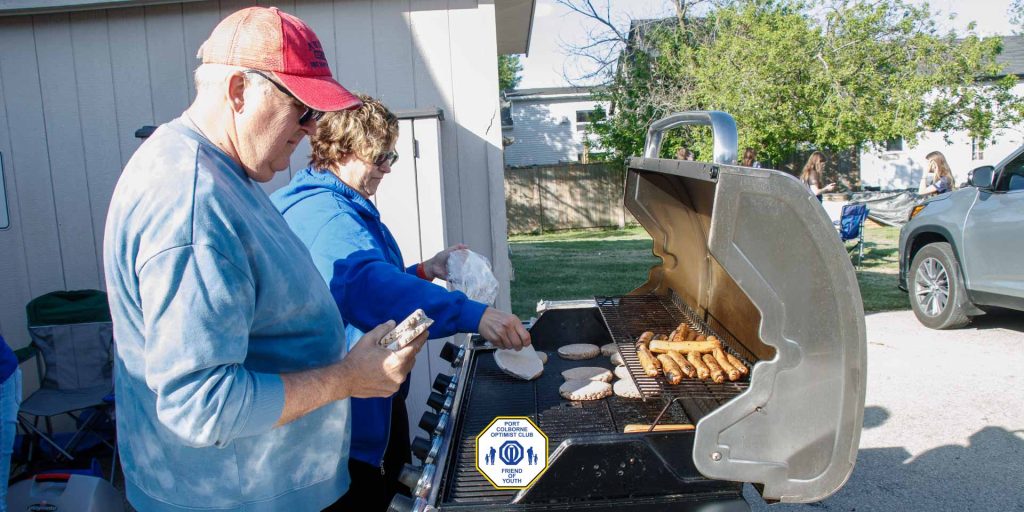 On this sunny evening, Chris managed the main course, keeping a stream of tasty burgers and hotdogs flowing, supplemented with all the usual toppings and condiments. The meaty meal was balanced with assorted chips and a cooler full of drinks kept us all hydrated.
Gone But Not Forgotten
Pride of place was given to the cupcake cake dessert. This year we honored past member Graham Priest. Graham worked selflessly for the club and our community for over thirty years before his passing at the end of last year.
Thank you for your selflessness, Graham. You will be missed, not forgotten.
The Optimist Club voted unanimously to rename this annual event in his honour. From this year forward the event will be called the Graham Priest Youth Appreciation Awards.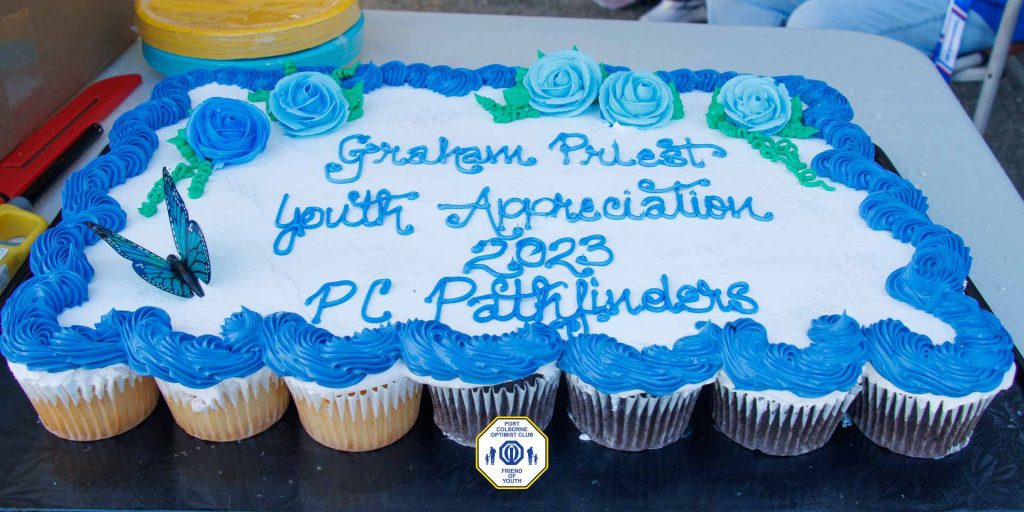 The Award
This year our event focused on the Pathfinders, an intrepid group that step up to the plate in times of need, for one example by helping us in our twice-yearly road cleanup efforts. The Pathfinders help with other programs throughout our area too, tirelessly spending their freely given free time for their community. On behalf of us all, we thank you!
On The Road
The Pathfinders are in the process of planning for the trip of a lifetime.
In July 2024 the Pathfinders will take 25 girl members from Port Colborne and Welland, chaperoned by 5 group leaders, on a 10-day visit to Newfoundland! There, they will enjoy the beauties of this amazing location among their friends in a secure setting, an opportunity which some of them may otherwise never see.
The Port Colborne Optimist Club is pleased to help. It would not be an award night without presenting an award. We gave them a cheque for $500 to put toward the costs for the trip. Anyone wanting to know more about this trip, perhaps to get involved or make a donation, should contact the 62nd Newfoundland Independent Trip Unit, specifically, send an email to group leader heather.wiatt@sympatico.ca

It was a very pleasant evening with excellent company and even better burgers. We all enjoyed a warm sunny evening and went home well fed. Very well fed. Those cupcakes were a hit.